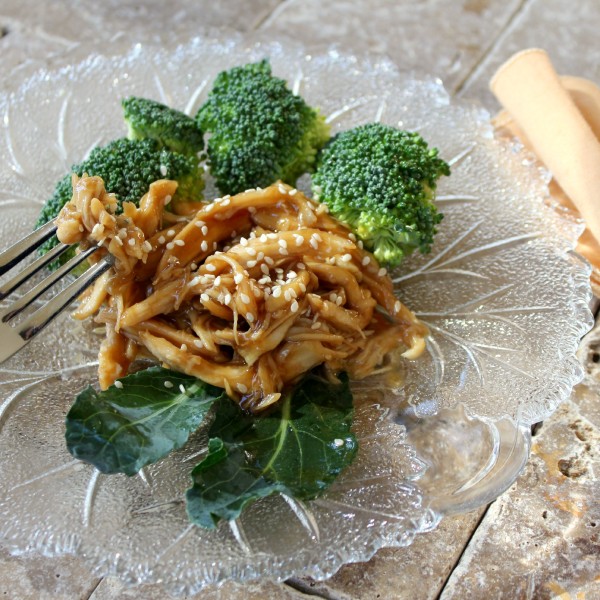 Ingredients
4 chicken breasts – If using large pieces only use 3
1/4 cup soy sauce
1 tablespoon almond butter or peanut butter
1/4 cup + 1 tablespoon honey
2 teaspoons white vinegar
1/8 teaspoon garlic powder
1 teaspoon olive oil
2 teaspoons crushed garlic
1 medium onion, chopped
1/4 cup water
1/2 teaspoon salt
Sesame seeds for topping
Directions
Mix all ingredients except chicken in crock pot until well combined. Add chicken and submerge as much as possible. Cook on low 4-6 hours. Shred with a fork in the crock pot before serving. Mix so that all shredded chicken is covered in sauce. Serve over chopped, roasted broccoli. Top with sesame seeds.
Makes 6 servings. This dish packs a flavorful punch. A little bit goes a long way, especially when mixed with a few cups of chopped broccoli!
Each serving contains 179 calories, 3.7 grams of fat, .7 grams of saturated fat, 48 mg. cholesterol, 455 mg. sodium, 17 grams of carb, .6 grams of fiber, 15 grams of sugar, and 19 grams of protein.
---