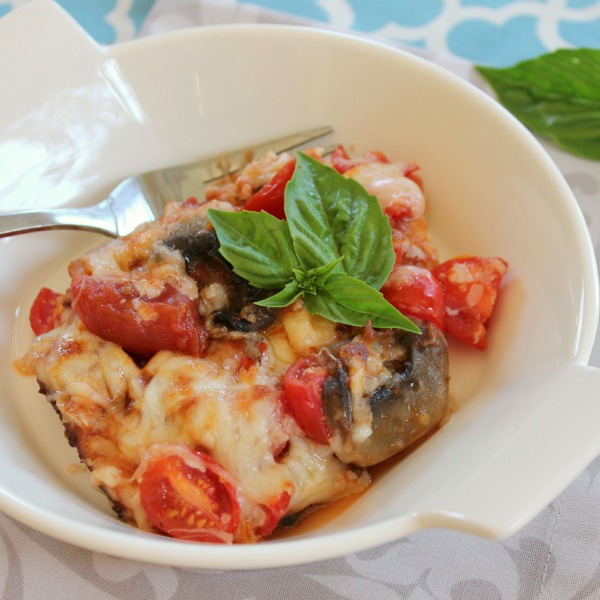 Caution…This is a Gigantic Dish! It is amazing, and you will want leftovers, but just in case….you have been warned. If you are not sure if you will like it, make a 1/2 recipe the first time.
Ingredients
Casserole Base
1 large head cauliflower, riced (should yield 6 cups)
3/4 cup egg whites
3/4 cup mozzarella cheese (don't worry, it makes a lot)
1 teaspoon fine grain sea salt
1 teaspoon dried oregano
1/2 teaspoon ground black pepper
Casserole Topping
12 oz lean ground beef (grass fed is best)
4 oz lean, nitrite free sausage (you can make whatever blend of ground beef and sausage that you want.I just mixed them together for flavor)
8 oz package sliced mushrooms (adding more will just bulk up the veggies)
1 cup spaghetti sauce
4-5 Roma tomatoes, cut into chunks (14 oz can of chopped tomatoes in a pinch)
Mozarella cheese (small amount) for sprinkling
Directions
"Rice" cauliflower in food processor (set on grating setting). Add egg whites, cheese, salt, oregano, and pepper. Mix well and pour into a well greased 9×13 AND 8×8 pan. This recipe makes a lot. Bake at 450 for 25 minutes or until base is set and firm but not dry.
While base is cooking, saute topping ingredients (ground beef, sausage, mushrooms, tomatoes) until well cooked. Add spaghetti sauce at the end. Pour topping onto base and sprinkle with a little bit of mozzarella. Broil for an additional minute or until cheese is a bit brown on top.
You can easily vary this recipe by adding different vegetables or meats. Remember that veggie heavy meals are always best, so experiment with different vegetable flavors like peppers and onions.
Recipe makes approximately 8 large servings. Each serving contains 209 calories, 470 mg sodium (will vary based on brand of sausage and spaghetti sauce), 9 grams of fat, 3.9 grams saturated fat, 52 mg cholesterol, 14 grams carb, 3.5 grams fiber, 5.5 grams sugar, and 20.5 grams protein.
---